Hello guys,
I did the FM receiver (WBFM) based on the link bellow. It's working
good. I
can tune the local FM stations.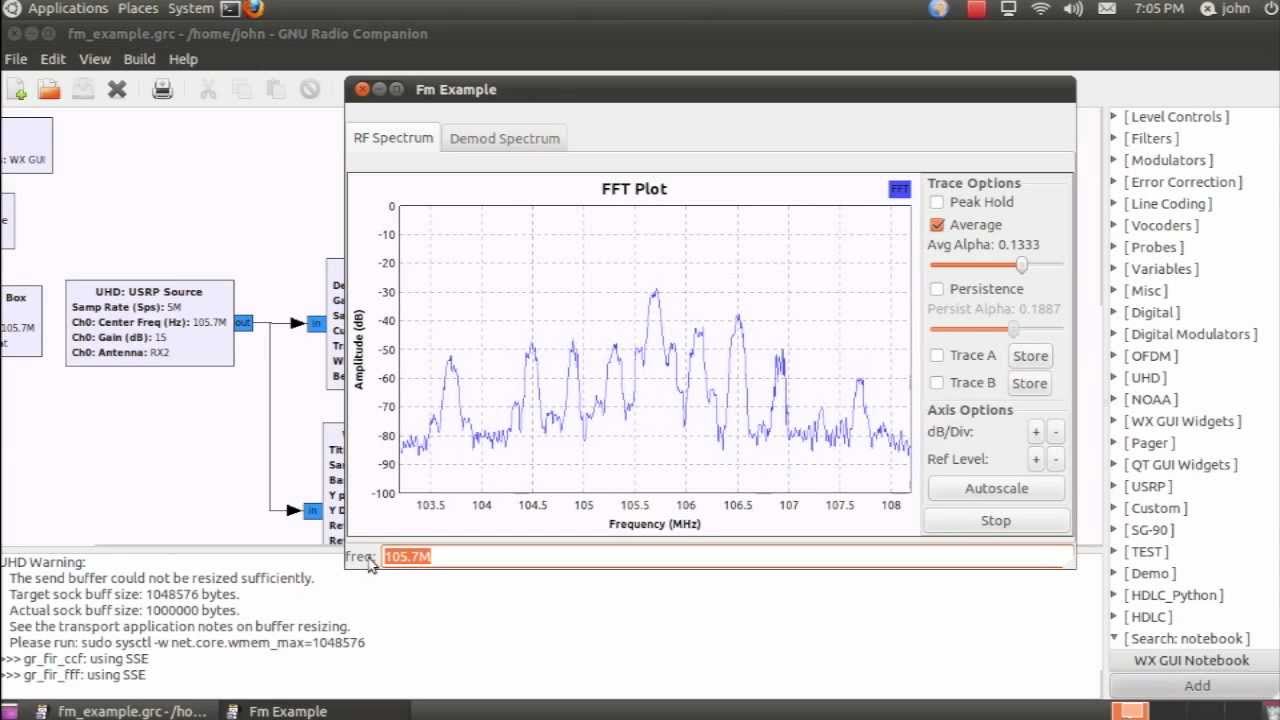 Now I'm trying to build the FM transmitter. My model is attached to
the
email. It seems it's working because I can see the graphical sink.

My major doubt is about how to use the ''UHD: USRP Sink'', because
it's
dificult to test this block. I don't know if I set the parameters
correctly.

The ''UHD: USRP Sink'' block is different in:
http://www.dl8rds.de/index.php/Datei:GnuRadio_USRP2_FM_TRX.jpg. The
''USRP
Sink'' block in this example has additional options like:
''Interpolation,
''Side'', ''Transmitt''. Is my ''UHD: USRP Sink'' updated or outdated ?

I don't know if we have to use diferent blocks for USRP1 or USRP2. Do
we
have to use ?

The center frequency I'm trying to send the signal is the 105,5 MHz.
I
think I'm receiving the carrier 105,5 MHz, because I can hear a tone and
see
a signal peak centered in 105,5 MHz in the graphic in the FM receiver
model.
Thanks for any clue.
Regards,
Bruno C.
WBFM_transmitter_Bruno.grc
http://gnuradio.4.n7.nabble.com/file/n42489/WBFM_transmitter_Bruno.grc
–
View this message in context:
http://gnuradio.4.n7.nabble.com/Simple-WBFM-Transmitter-How-to-configure-the-USRP1-block-to-transmit-tp42489.html
Sent from the GnuRadio mailing list archive at Nabble.com.