The Textile Editor Helper (TEH) is a Javascript-based text formatting
toolbar that will be added to all of your text areas that utilize the
TEH feature. TEH was developed to provide a more WYSIWYG-ish option
for users of our Rails CMS called slate while still letting us use
Textile.
======================
= So what are the features?
These are a list of the current features for the Textile Editor Helper
v0.1.
supports: IE7, FF 1.5 + 2, & Safari 2 pretty sure IE6 works as
well
ability to use "simple" vs. "extended" editor
supports all block elements in textile except footnote
supports all block modifier elements in textile
supports simple ordered and unordered lists including indenting them
supports most of the textile phrase modifiers, very easy to add the
missing ones
supports multiple-paragraph modification
can have multiple "editors" on one page, access key use in this
environment is flaky
access key support
select text to add and remove tags, selection stays highlighted
seamlessly change between tags and modifiers
doesn't need to be in the body onload tag does require prototype
though
just like creating a normal text area tag
==================
= What's missing?
We are currently not offering a method to include links or images via
the toolbar. This is because we have another method in our system to
do these things. We will integrate these in the future but we needed
to get the text formatting out the door quickly.
==========================
= Want to see a quick example?
Check out our demo video: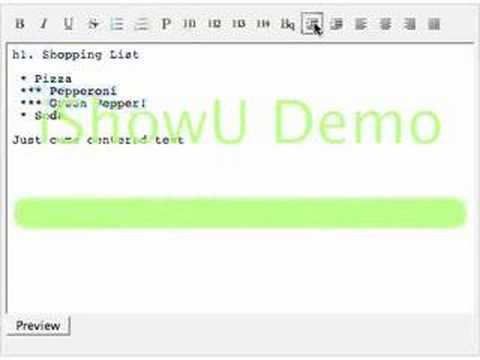 ==========================
= Interested? Want to download it?
Learn more at:
http://slateinfo.blogs.wvu.edu/plugins/textile_editor_helper
Let us know what you think.
–
Proud supporter of DC United